People, Partnerships and Progress: Reflections On Two Decades of Success
01/09/2023
By Phil Morgan President, Lee County Board of Supervisor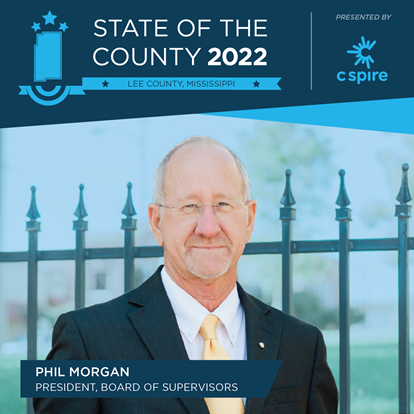 It has been an honor serving the great citizens of Lee County for the past 23 years. Witnessing first-hand the growth and prosperity which has occurred through the years has been profoundly rewarding. I am pleased to highlight some of the significant achievements during my tenure on the Lee County Board of Supervisors and this past year 2022.
County leadership prioritized several public safety projects in 2022. Most notably, efforts have been made at strengthening law enforcement by providing resources and support for training to keep the Lee County Sheriff's Department competitive and to retain quality officers. The Lee County officers are now better equipped with what they need to fight crime and serve and protect our citizens. Additionally, a much-needed expansion has begun for the Lee County E-911 dispatch center, located at 178 Pinecrest Street, Saltillo. The expansion is scheduled for completion in early 2025.
Recent weather events are a good reminder that we have a great resource in our Code Red weather alert system. Through our partnership with Three Rivers Planning & Development District to provide this weather notice, our citizens are safer and more prepared in emergency situations.
Lee County assisted the library with the purchase of a new van to serve as a more modernized bookmobile, which makes spreading literacy around the county more accessible.
Lee County improved key infrastructure this past year. Approximately 40-50 miles of roads throughout the county were resurfaced and several bridges replaced, which now exceeds state standards. State funded improvements eased the burden of county taxpayers' dollars. I am pleased to report that all county-maintained roads are now asphalt.
Another big win for 2022 was that Lee County, through partnership with the City of Tupelo, was able to help retain the Tupelo-Lee Humane Society. Our animal shelter has a vital impact on the unwanted pet population in our community through its many programming and outreach efforts. We recognize this is a service beneficial to all Lee County citizens, so it is our duty, morally and humanely, to care for these animals. The Tupelo-Lee Humane Society is a governmental agency that we must continue to support.
Another way in which Lee County is working for its citizens is through its partnership with LIFECORE Health Group, a community mental health center which provides integrated health services to seven counties in Northeast Mississippi. For nearly a year, Lee County has continued to work with LIFECORE to provide mental health support to underserved citizens and has successfully diverted 30% of potentially incarcerated persons into the program. Through the
Board of Supervisors' leadership, Lee County is proactive in keeping its citizens out of the state hospital and at home and working while receiving the needed mental health support.
Since my early days on the Board of Supervisors, I have had a good understanding that economic growth is critical to our future as a community. I am proud to say that we have announced 362 new or expanding industries over the past 20 years that have produced more than $3 billion in new private investment in Lee County. These same projects have provided approximately 19,000 new career opportunities for our families, friends, and citizens. These opportunities also make us an attractive location for our young people to stay and work, or for folks to relocate and call Lee County home.
The greatest economic milestone achieved during my tenure with the Board of Supervisors was the 2007 recruitment of Toyota to Blue Springs. This colossal project was made possible by many key partnerships, including Pontotoc, Union and Lee counties coming together to form the PUL Alliance. I will never forget how unanimous of a decision it was for the Lee County Board to vote for proceeding with the project and granting the significant funds required by each county. The return was 2,000 advanced manufacturing jobs that were life changing for our workforce and a private investment by Toyota of $1.2 billion. These numbers are staggering, and Toyota's impact is felt daily in our local economy. The Board has a rich history of coming together for the greater good of the region. Supporting the Toyota project was certainly a prime example of that unity.
Other noteworthy economic development projects over the past 20 years include the expansion or recruitment of Cooper Tire and Rubber Company, H.M. Richards, Auto Parts Manufacturing Mississippi, MTD Products (now Stanley Black and Decker), Grammer, Southern Motion, and General Atomics, just to name a few. The diversification of industry in Lee County in recent decades has contributed greatly to the thriving economy we experience today.
Lee County has tremendous partnerships together with Three Rivers Planning & Development District and Community Development Foundation that help us spur this type of economic growth. Just in the past year, the total value of all Lee County's assessed property grew by 4.7%, and in my tenure on the Board, that value has more than doubled. This is truly a testament to our commitment to economic growth and good partnerships allowing us to maintain low taxes for everyone.
Through my supervisor career, I have served with some upstanding leaders on the Board of Supervisors. Although the political makeup of Lee County has changed the last couple decades, I am very proud of the accomplishments the Board has been able to achieve by putting our differences aside and uniting for the greater good of our constituents and communities.
I would like to thank Three Rivers Planning & Development District, Community Development Foundation, North Mississippi Medical Center, and the City of Tupelo and Mayor Todd Jordan and his administration. The Lee County partnerships are strong with these organizations. When my time on the Board ends next year, I will miss the friendships and camaraderie I get to experience daily with so many different folks in the community.
Happy New Year and may the Lord continue to bless Lee County, Mississippi!