Tupelo Region Named Top Micropolitan
03/02/2020
For New and Expanded Facilities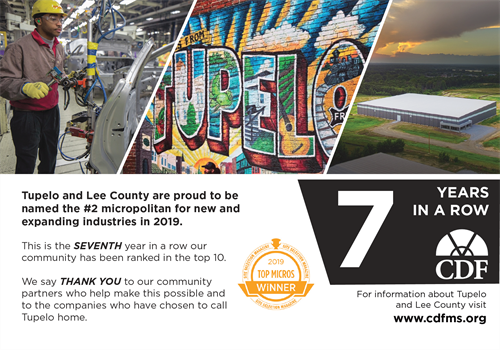 Tupelo, Miss. (March 2, 2020)- The Tupelo region has been named to Site Selection magazine's list of most active micropolitan areas for new and expanding facilities in 2019. Tupelo ranked second in the nation among the 551 micropolitan areas designated by the United States Office of Management and Budget. Since 2005, this is the eleventh time the Tupelo region has been named to the list. Site Selection also named Tupelo as Mississippi's Micropolitan of the Decade, finishing inside the top 10 for the seventh year in a row.
"The success of 2019 is yet another step in Tupelo and Lee County's long-term strategy for economic growth. Through our partnerships with the Mississippi Development Authority, Tennessee Valley Authority, Appalachian Regional Commission, Three Rivers Planning and Development District and other economic development officials—we will continue to maintain our momentum in 2020," said Lee County Board of Supervisors President Tommie Lee Ivy.
In 2019, the Tupelo region announced 10 new and expanding industry projects during the year, including BancorpSouth, Cooper Tire, General Atomics, H.M. Richards, Hyperion Technologies Group, Innocor, Leggett & Platt, MTD Products and Sofa Kraze. The projects created over $151 million in new capital investment and over 465 new jobs.
"Our community consistently finds itself being recognized as a top 10 micropolitan. This recognition is not by chance but is only the result of the hard work by our community working together towards greater prosperity for all. We are very proud to receive this award 7 years in a row and be named Mississippi's Micropolitan of the Decade," said CDF Chairman Sam Pace.
"The Tupelo and Lee County community has worked hard for many years to provide the best business environment for manufacturing and business growth. On behalf of so many business leaders and public servants, it is very satisfying to be recognized for our successful economic development program. We will continue our focus on retaining, growing and attracting talented individuals so our businesses can continue to grow and prosper," said CDF President and CEO David Rumbarger.
Micropolitan statistical areas, as defined by the United States Office of Management and Budget, are labor markets of 10,000 to 50,000 people centered around an urban cluster which cover at least one county.
2019 TOP U.S. MICROPOLITANS
BY NUMBER OF PROJECTS
| | | |
| --- | --- | --- |
|  Rank | Micropolitan | Projects |
| 1 | Findlay, OH | 17 |
| 2 | Tupelo, MS | 10 |
| 3 | Batavia, NY | 9 |
| T4 | Jefferson, GA | 8 |
| T4 | Mayfield, KY | 8 |
| T6 | Cullman, AL | 7 |
| T6 | Angola, IN | 7 |
| T6 | Tiffin, OH | 7 |
| T6 | Zanesville, OH | 7 |
| T6 | Danville, VA | 7 |
Source: Conway Projects Database 
### 
About the Community Development Foundation:
Founded in 1948, the Community Development Foundation (CDF) is the exclusive agency charged with providing chamber of commerce, economic development and planning and property management services for Tupelo/Lee County, Mississippi. CDF is a nonprofit membership organization composed of civic, business and professional leaders representing the region. 
About Site Selection magazine:
Site Selection magazine, published by Conway Inc., delivers expansion planning information to a qualified circulation of 48,700 executives of fast-growing firms. Celebrating its 65th anniversary this year, Site Selection is also available via Site Selection Online. Headquartered in Atlanta, Ga., Conway, publisher of Site Selection magazine, the Conway Analytics Report and a family of online industry newsletters, in 2017 was recognized as Georgia International Small Business of the Year by the Atlanta Business Chronicle. Conway has been a trusted advisor to corporations, government economic development and investment promotion agencies around the world since 1954. Conway owns and manages Conway Events, organizer of worldwide FDI events; FDI advisory firm Conway Advisory; and New York-based Conway PR & Marketing, a leading PR and lead-generation firm. Conway also manages the Industrial Asset Management Council.